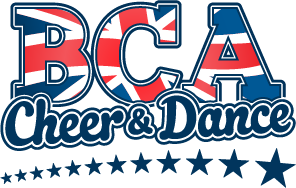 17th November 2018 | K2 Leisure Centre, Crawley
We are excited to announce the first of our FUNdamentals competitions, at the K2 in Crawley!
Saturday
Levels 1 & 2 Cheer Divisions
Levels 1 & 2 Stunt Group Divisions
All Prep Divisions
All Dance Divisions
Cheer & Dance Solos/Duos/Trios
SEN & Para Divisions
Please note: Schedule is provisional and subject to change
First Division: £20.00
Crossovers: £10.00
Speciality Divisions: £15.00
Spectator Wristbands
Adult: £20.00 per day (Will increase to £25 if sold on the day)
Child*: £10.00 per day
Under 5: Free
Please Note: Spectator wristbands will be on sale here until 3 days before the event or the event sells out, whichever comes first. Orders placed within 2 weeks of the event will not be posted but will be available to collect on the day. A £5 handling fee is charged per order to cover the cost of processing your order in advance. Any wristbands remaining will be sold at the higher price of £25 and all wristbands are sold on a first come first served basis. *Child age is 12 and under.
Coach Wristbands
Each programme will be allocated complimentary coach wristbands based on a ratio of the number of athletes entering the competition:
2 Wristbands will be given for the first 20 competing athletes.
A further 1 additional wristband allocated for every 20 additional competing athletes up to a maximum of 10 free wristbands.
Example: 160 Athletes on the Team Roster = 9 Complimentary wristbands.
Additional Coach Wristbands can be purchased on the entry form at a cost of £40.00 per Wristband.
Athlete ID Cards
We take the safety and fairness of all athletes seriously and will never ask you to sign a Medical or Liability Release form to waive our responsibility. To ensure everyone is registered and competing in the correct age category, all athletes are required to hold an up to date BCA ID Card.
By entering a BCA Competition you acknowelege that you have read and accepted our competition policies and rules. Please note all schedule/timings are provisional and subject to change. If you would like any further information please contact the office on 030 3344 5566 or info@cheerleading.org.uk
Venue Location
K2 Leisure Centre
Pease Pottage Hill
Crawley
West Sussex
RH11 9BQ